(Acanthoscelides obtecus)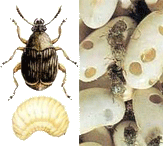 Adult is 3-6mm long, yellow green in colour with grey spots. Larva is up to 5mm long, white and hairy.

Female lays about 50 eggs, on either dried beans in store houses, or on bean lobes in the fields. Many larvae can be found in a single bean. Before completing its growth, larva prepares a round hole, which is covered by bean's skin, from which the insect will come out.
Infests all kinds of legumes' seeds, but mostly white stored beans. If it is not controlled promptly, it can reproduce continuously.
Επιστροφή