(Ephestia elutella)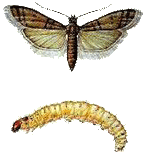 Adult is 10-11 mm long, with a wing opening of 15-18 mm. Front wings are chestnut grey in colour. Larvae are whitish to pinky and up to 20 mm long.
Adults do not live long (their life span is13-15 days) and they do not eat. Female lays up to 280 eggs on infested products, for the upcoming larvae to feed on them. Life cycle is completed, under optimum conditions, in 50-90 days.
They appear in tobacco store houses and they infest the dried tobacco leaves. They also infest nuts, coffee beans and cocoa, being one of the most harmful pest for chocolate factories. The insect is traced in time, with pheromon traps.
Επιστροφή