(Ephestia kuehniella)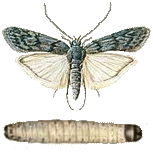 Adult is 10-15 mm long, with a wing span opening more than 20 mm. The colour of the front wings is dark grey. Larva is whitish, with length up to 20 mm.

Female lays up to 550 eggs, under favorable conditions. Optimum temperature is 26-27o C and relative humidity 70%.
Life cycle, under excellent conditions, is completed in 3-4 months. Eggs hatch on infested products.
Larvae are fast moving and they form webs with fibers produced by them, on every place, even on machinery, causing, in some cases, blockages. They appear mostly in mills and they infest flour, bran, etc.

Pheromon traps are used for tracing the insect in time.
Επιστροφή