(Liposcelis bostrychophila)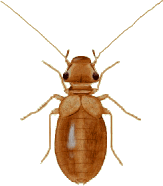 This insect belongs to Psocoptera family, it is very small, with length about 0,5-1 mm. and has whitish to light chestnut colour, in some cases. Due to its small size, it is often mistaken for Acarus siro. It can be identified by the three pairs of legs, instead of the four pairs that Acarus has and also of the fact that it moves quickly, while Acarus is rather slow moving.
The insect's life span is up to 53 weeks and the female lays 3-4 eggs per day, from the third week after it becomes adult.
As time passes, the number of eggs decreases. The size of the eggs is not proportional to body size, being the 1/3 of it. Biological cycle is completed in 22-56 days, depending highly on temperature and humidity.
It feeds on fungi mycelium and other insects' metabolism products.
It is found on cereals, when temperature and humidity of the product is high. It is a secondary parasite, found also in flour, papers and generally where dust, temperature and humidity are high.
Επιστροφή