(Mauritanicus tenebroides)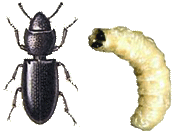 Adult body has oblong shape, black colour and is 9-10mm long. Larva is white, fleshy, 20mm long, with black head and a pair of black pincers on the back of its body.
Female lays about 1000 eggs, interspersed on flour, wheat or other foodstuff. Life cycle lasts from few months to one year, depending on the conditions. Female adult lives for about a year, but under favorable conditions it can live for up to 3 years.
Appears in flour mills, silos and cereal warehouses and infests cereals and other seeds, fodder and nuts. It has been found also in tobacco warehouses, where larvae open holes in dried leaves.
Επιστροφή