(Orysaephilus surinamensis)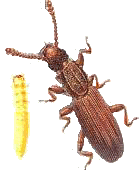 Adults are 2,5-3,5mm long, with dark brown colour and thorax with two distinct grooves and six incisions on every side.
Infests cereals and their products, as well as other seeds, nuts and dried fruits. On wheat, it appears as a secondary infestation.
Lays an average of 300 eggs and its life cycle is completed in 50 days, while in higher temperatures it lasts only 30 days.
Lives 6-10 months, although under favorable conditions can live for 3 years. Starts laying eggs 5 days after it becomes adult. Large insect populations, due to their metabolism products, can increase temperature and humidity in cereals.
Επιστροφή