(Paniceum stegobium)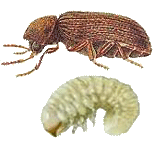 It belongs to the same family with L.serricorne, but it is slightly bigger and longer.
Adult is 2-4mm long, with red brown colour and thin hair. Antennae end in three broader parts.
Female lays 50-100 eggs, individually, on foodstuff.
Larva lives for 4-5 days, while the whole life cycle lasts for 7 months. In cooler climates there is only one generation per year.
Larva is omnivorous. It feeds on a broad spectrum of food, like dried herbs, nuts, cereals, spices, coffee beans, biscuits, chocolate, pastas, dried beans, dry fodder, milk powder, grinded fish, bread, dried flowers, etc.
Επιστροφή