(Rhysopertha dominica)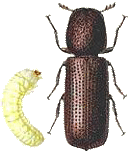 One of the smallest cereal beetles. Adults are 2-3mm long and have chestnut to black colour. Their body surface is rough and spotted with deep pits.

Female lays 300-500 eggs between seeds. Life cycle is completed in 1-2 months, depending on temperature. Insect is less active in lower temperatures.

Infests mainly cereals, being a primary pest, but by opening holes in the seeds, it helps infestation of secondary pests. It flies during the hot hours of the day, immigrating thus to other nearby stored cereal quantities, spreading the infestation. It feeds also on dried herbs.
Επιστροφή