(Sitophilus granarius)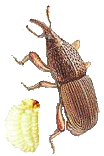 Adults are 3-5mm long, having red brown colour at the beginning, which becomes chestnut brown. Their head ends to a distinctive snout. Thorax is spotted and body is ribbed.

They infest wheat, corn, barley and rice. Adults may occasionally feed on cereal products, like flour. Large insect populations, due to their metabolism products, can increase temperature and humidity in cereals.

Female lay 35-250 eggs, with a rate of 2-3 eggs per day. They lay the eggs into the seeds by piercing them. The larvae feed on these, until they become adults. Life cycle is completed in 30-40 days in summer and 120-150 days in winter. Adults live for 7-8 months.
Επιστροφή