(Sitotroga cerealella)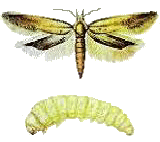 Adult is 5-8 mm long, with a wing opening of 11-17 mm.
Upper wings are yellow grey in colour and the lower wings are grey with fringes.
Female lays about 40 tiny eggs on wheat or corn seeds. Eggs hatch in 4-8 days and small white larvae appear, completing their growth into the seeds.
Except for wheat and corn, they also infest barley, rye and oats.
This is only for the seeds and not their end products.
Infestation can start even in the crop fields.
Επιστροφή