(Trogoderma granarium)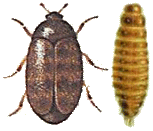 Adult is 2-3mm long, has oval shape, and dark brown colour with spots of lighter colour on its back.
Larva has spindle shaped body, about 5mm long and chestnut to yellow colour.
Female lays about 80 eggs. They hatch in 4-5 days and larva stage lasts up to 4 weeks. Adults are short lived, with a life span of a few days to 2 weeks.
Larva eats almost everything and except wheat, infests also rice, nuts, oily seeds, legumes, latex, books, carton boxes and even painting canvas.
Επιστροφή