Disinfectants
DISINFECTION CARPET
Made of strong rubbery plastic, with dimensions 80 X 100 cm, ideal for avoiding germs during the entrance of working staff in food production areas. It is placed at the entrance and saturated with disinfectant. It has projections for better cleaning of the shoes, it does not slip and has compact edges to keep the disinfectant solution from flowing out. It is long lasting, because it is cleaned easily and the disinfectant can be replaced

Disinfectant, deodorant and antiseptic solution of stabilized chlorine dioxide CLO2, which is proved to be very effective for the control of a broad spectrum of microorganisms like bacteria, fungi, yeasts, algae. It is odourless and colourless without leaving any smell on foods, surfaces, or spaces. After application, it gives a sense of a clean and wholesome environment.
LYSOFORMIN SPECIAL
(aldehyde, quartemary ammonium compound), chlorhexidium gluconicum 9,8%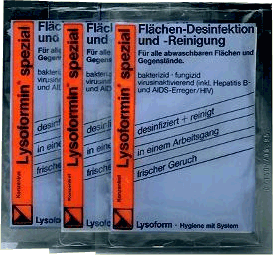 Broad spectrum disinfectant against viruses (HIV-AIDS included), fungi and bacteria (Tbc included.). It is applied on surfaces, clothes, tools, microbiological laboratories, hotels, ships, as well as in places of food preparation, like kitchens and food plants. Easy to handle and inexpensive when it is used diluted, as1/20-1/133 solution. Lysoformin is one of the most environment friendly products, because it is biodegraded.